COTTAGE AND CAMPING
TJALDSVÆÐIÐ KIRKJUBÆ II

 

                      
Welcome to the Tjaldstæðið Kirkjubær II, cottages and camping.
We offer a campsite where you can sleep in a small tent or motorhome. Cooking facilities, showers, wash machine, and dryer. In the Service House, you can charge your phone or camera for free. You do not have to book, but you have to arrive before 20PM
  The reception is open  18PM to 20PM
Verið velkomin á Tjaldstæðið á Kirkjubæ I
Tjaldstæðið er fyrir tjöld, húsbíla, hjólhýsi eða tjaldvagna. Í þjónustuhúsinu er eldunaraðstaða, sturtur, þvottavél og þurrkari og þar má hlaða síma og smærri raftæki án endurgjalds. Það er ekki hægt að bóka, bara mæta fyrir klukkan 20:00.
     Afgreiðslan er opin frá 18:00 - 20:00
Cottages for rent   
In addition to camping, we also offer sleeping bag accommodation in seven, nice and heated ( 20 degrees Celsius)  cottages. Book the Cottage online on Airbnb: Tjaldstæðið Kirkjubæ II
Smáhýsi til leigu  
Smáhýsin sjö eru á tjaldstæðinu, upphituð og notaleg. Upplagt fyrir fólk með ung börn eða fólkið sem er með óþol fyrir að liggja í tjaldi en þráir að komast í útilegu.
Smáhýsin á að bóka á Airbnb:  Tjaldstæðið Kirkjubæ II   
You can see more about some interesting thing or service that is not in the Campsite but in the area www.visitklaustur.is 
Upplýsingar um hvað á að skoða í Skaftárhreppi og hvaða þjónusta er í boði www.visitklaustur.is
We are situated in the small village Kirkjubæjarklaustur, at Road 1. When you arrive find the Licoure Store and turn right. 
Our place: GPS: N 63   47,507       W 018   02,887
Langi þig að fræðast um sögu, menningu og náttúru í Skaftárhreppi er margt að finna á www.eldsveitir.is. Hvernig tengjast Erró og Kjarval Klaustri, fann Bergur gullskipið, hver var Eldklerkurinn og svo margt fleira?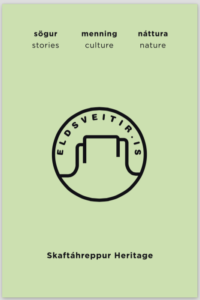 Read about Kirkjubæjarklaustur on this amazing web Eldsveitir.is
Three Walking Paths from the Tjaldstæðið Kirkjubær II
The turkish line: Love path, from Tjaldsvæði Kirkjubær II to the waterfall, Systrafoss, in the wood and up to the lake, Systravatn. Follow the path on the Hill to east, go to see Stjórnarfoss and Kirkjugólf on the way to Kirkjubær II.  (5 km)
The yellow line: Easy path, near Skaftá to  Systrastapi. (5 km) 
The dark blue line: Short walk from Tjaldsvæði Kirkjubæ II to Stjórnarfoss and Kirkjugólf. (2 km)